$15 per class / $65 for the whole day | Ticket sales end at midnight on April 15th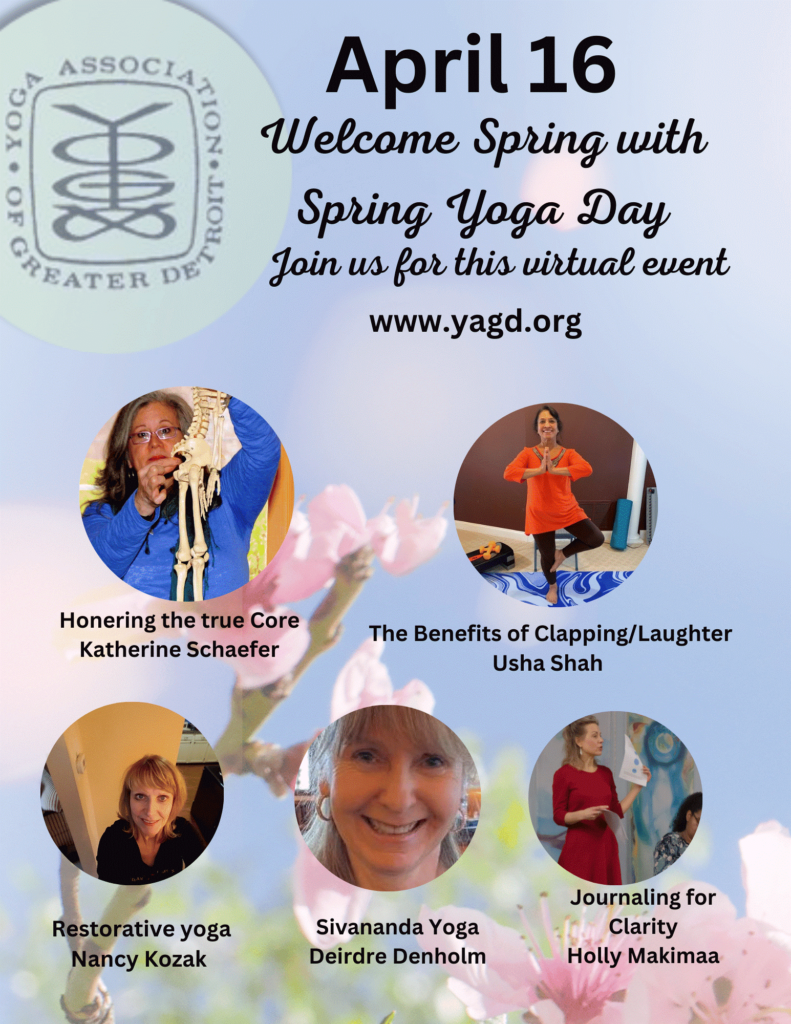 Virtual Class Lineup
Suitable for all levels. Please have a mat, blanket, strap and block available for most classes.
Restorative yoga invites you to move into a state of relaxation in this simple and supportive practice. Quiet your mind and slow your breath as you move through a series of 6-7 yoga poses that restore and rejuvenate your mind and body. You will be encouraged to release and rest. You will need 2-3 blankets or large towels, 2-3 pillows, an eye pillow or soft washcloth and a wall or sturdy chair. (If you have blocks or bolsters, they can also be used). Start your day with this gentle stress-reducing practice.

About Nancy

Nancy has been practicing yoga for the last 15 years and teaches at Ascension Providence Park Healing Arts & the Novi Athletic Club. She has attended many workshops with senior yoga teachers. Her current focus is on Yoga for Healthy Aging and Restorative Yoga.
The core is usually thought to be abdominal muscles but perhaps the spine should be considered the true core of the body. The muscles along the spine, around the trunk, the breathing diaphragm and the pelvic floor support the spine and can be considered as the container of the core. Individual spines can vary quite a bit. Some can have fewer or extra vertebrae. Some can have bends or twists. The curves in the spine can be quite different from person to person. The spine can also vary because of trained movement or lack of movement. All of these factors come into play when practicing yoga. Perhaps doing poses the same way on both sides is not serving the unique needs of each person. In this class we will explore a variety of poses and movements with individual differences in mind. Please have a mat, blanket, strap and block for this class.

About Katherine

After teaching for five years she was drawn towards yoga therapy at which point she began to focus her energy and resources to more training in the field and has accumulated more than a thousand hours of continuing education. Being a curious student of life she continues to host and attend several workshops and intensives every year in all subjects related to the human body and movement. Katherine enthusiastically shares her knowledge using a variety of methods to facilitate her students in connecting to their bodies and moving more fluidly. Katherine's commitment to honoring the spirit of Yoga while integrating contemporary knowledge in the field of somatics is a potent combination.
Join Usha to explore the benefits to our physical, mental, spiritual and holistic wellness through clapping, breath and laughter. The benefits are far reaching for all stages of your life.

About Usha's

Usha is a retired nurse. I have worked in nursing homes for almost 25 years. I have witnessed so much pain and suffering of senior citizens. I want to create awareness of a healthy body and healthy mind in all seniors. I teach chair yoga to seniors. Whether one does yoga on a mat, or sitting on a chair, the benefits are the same. I teach them that they should just move their bodies & stay active, so that they can live as independently as possible. My deep desire is to empower every senior, even every human being, to harness the body's energy for healing, build vitality, relieve stress and anxiety, and boost self confidence.
This hour-long class will offer a classical Sivananda format, along with Pranayama, Sun Salutations, and concluding with a mindful Mountain Meditation. This class is suitable for all levels and will present modifications of more complex/advanced poses. The class format is based on the Sivananda yoga practice which includes the following Five Points of Yoga. These are:

PROPER EXERCISE (ĀSANA)
PROPER BREATHING (PRĀṆĀYĀMA)
PROPER RELAXATION (ŚAVĀSANA)
PROPER DIET (VEGETARIAN)
POSITIVE THINKING & MEDITATION (VEDĀNTA & DHYĀNA)

About Deirdre

Deirdre Denholm has been teaching Yoga for almost 25 years and incorporates mindfulness into her teaching. She is a certified Sivananda yoga instructor and trained at the Sivananda Yoga Vedanta Center in Val Morin, Quebec. She also works as a psychiatric nurse practitioner and encourages holistic interventions such as yoga practice for the mind/body/spirit connection it provides.
Journaling is such a simple method that it is often overlooked, but is an extremely effective and evidence-based tool to improve mental well-being, shift perspective, and boost capacity to act on one's most cherished goals. Journaling is like a good yoga pose in that it directs our energies in a focused manner to make manifest our truest Soul Self. In this class, we will do a few simple poses that can be done seated if desired and spend the rest of our time on journaling to cultivate the qualities of clarity and compassion.

About Holly

Journaling Teacher, Spiritual Life Coach, and Yoga Instructor Holly Makimaa of Your Transformational Journey will help us experience how journaling can be a beneficial practice for everyone.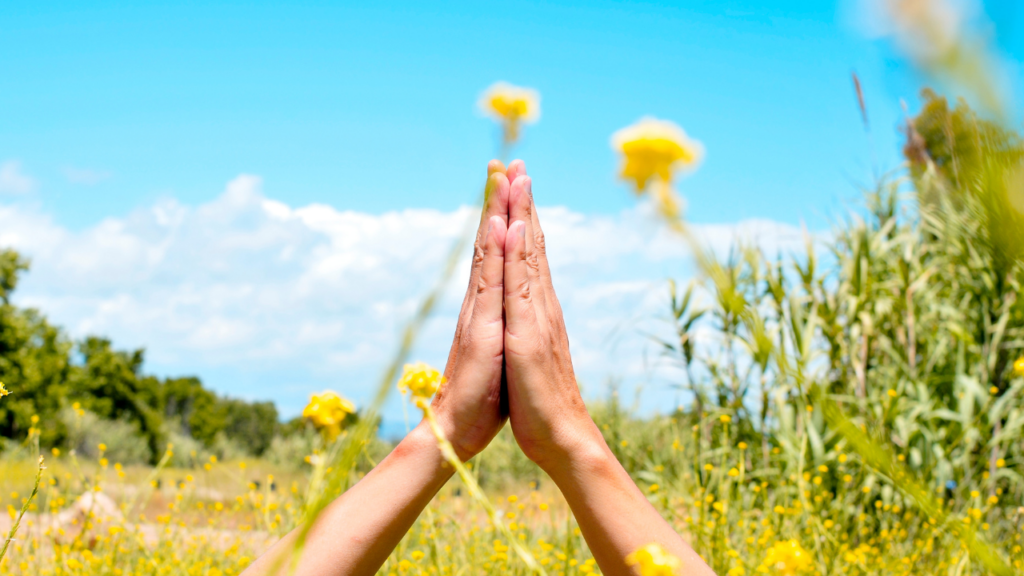 2023 Spring Yoga Day