I consider myself a serious student & practitioner of various Yoga teachings, going back almost 45 years. I do not use any one particular style, but my instructions are tailored around the styles which are now commonly called "Slow Flow" and "Healthy Backs". I focus on doing Correct Poses within one's ability. I very much emphasize the body's natural alignment in these poses, initiated by our breath. I received my 1st Teacher Certification in Ontario, Canada in 1985, and my 2nd one through the Center for Yoga in Southfield, MI in 1999.
Over the years, I have attended numerous Yoga conferences and/or workshops offered by the visiting Master Teachers in Ontario & Michigan. My favorite teachers are Arthur Kilmurray, Jason Crandell & Desiree Rumbough.
I have been a resident of Farmington Hills since 1993, and have taught locally to clients of all ages, at various yoga studios, fitness centers, and in private settings. Lately, I have been teaching senior citizens at Berkley Parks & Recreation. My Chair Yoga classes at St. Anne's Mead (where I taught 15+ years), and at the JCC retirement centers were canceled in March 2020 due to Covid-19, as well as I had been teaching
a Chair Yoga class each semester at SOAR (Society of Active Retirees) during 2018 & 2019, once again until the Pandemic hit us.
My three main areas of interest (chronologically speaking) are:
Fabric Art (of which I've enclosed a photo below)
Yoga!
Gardening (our Responsibility for supporting the Eco-system)
My Family is from all over! I was born in Basel, Switzerland, met my husband, Ayaz at Stratford-upon-Avon in England during a foreign student trip to the city where Shakespeare was born. My husband was born in Undivided India and both our daughters were born in Guelph, Ontario, Canada. We will celebrate our 50th Anniversary in the coming summer!
We have traveled extensively during the last 15 years, since Ayaz took retirement from his technical career. We have been fortunate to cover all the 5 continents: from Petra (Jordan), the Pyramids and Aswan (Egypt), Galapagos, Machu Picchu, the Great Barrier Reef (Australia/ New Zealand) We also managed to travel extensively through Europe (after living in London, England) which include France, Germany, Austria, Czechoslovakia, Spain, Norway, and just recently Iceland!
We watched the "mid-night sun" while visiting the Arctic Circle (Norway), but unfortunately, the weather did not cooperate for a viewing of the Northern Lights a few weeks ago in Iceland!
About the photos: The top photograph was taken in front of what is claimed to be the
second-largest Oak tree in Michigan, at a residence in Bloomfield Hills (2014). (Note Doris standing at the base of the tree!!)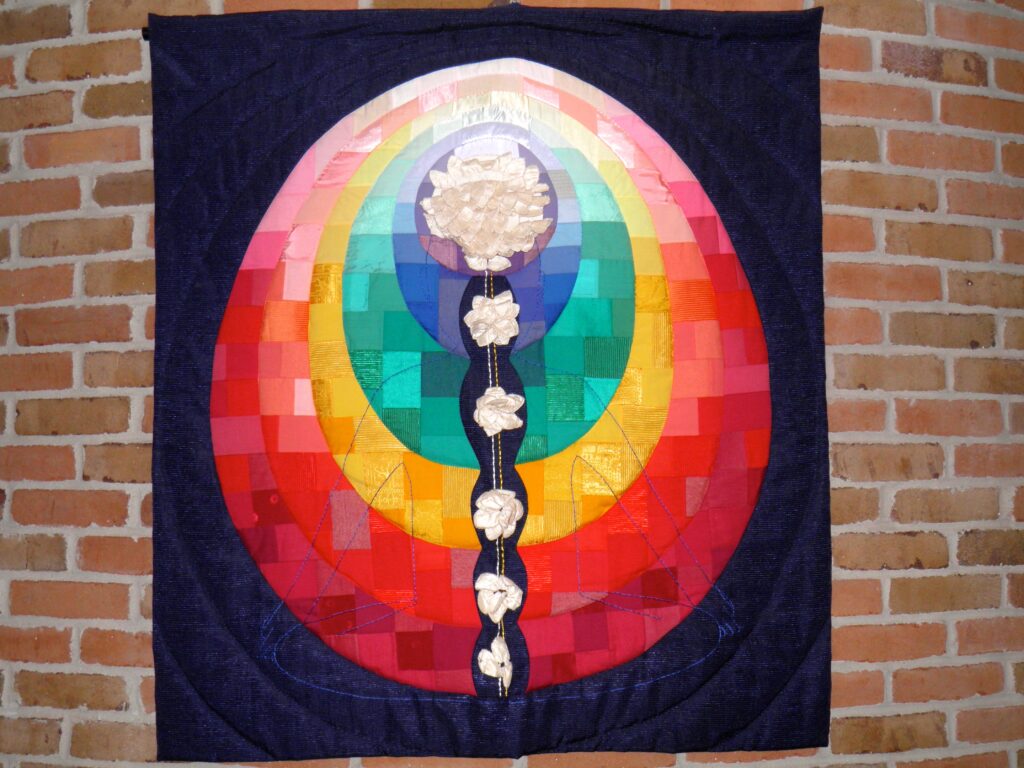 The other picture is from my association with a Fabric Art group in Guelph, Ontario, Canada where we lived from 1973-87. This is a depiction of the 7 Yogic Chakras (1985).