We are back to on site meetings at St Davids Church on 12 Mile in Southfield for a few meetings.
Check your Tapas newsletter or the website for information. St Davids has completed all renovations giving us a large, clean space to do asana, meet and have refreshments.

YAGD Book Club – September
September 9
@
1:30 pm
–
2:30 pm
YAGD Book Club meetings are held the first Friday of the month at 1:30 PM.

If you are interested in joining us, send Char an email or text and she will forward the link. fitnessfan1@mac.com or (248) 535-3101.
---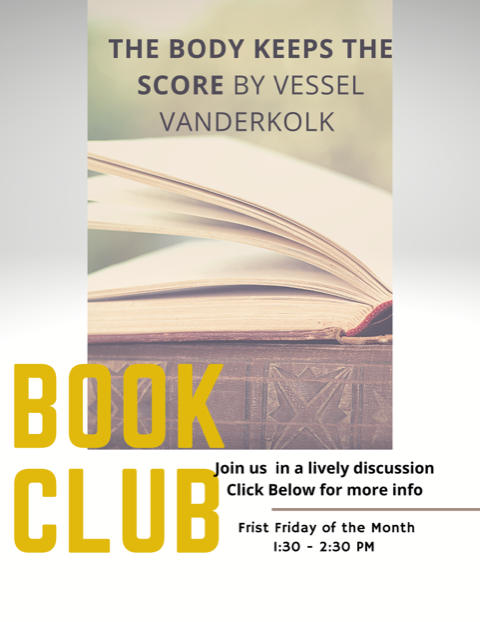 Zoom in to discuss a fascinating book with your fellow YAGD readers on Friday, September 9th at 1:30 PM.
The Body Keeps the Score: Brain, Mind, and Body in the Healing of Trauma by Bessel van der Kolk
Trauma is a fact of life. Veterans and their families deal with the painful aftermath of combat; one in five Americans has been molested; one in four grew up with alcoholics; one in three couples have engaged in physical violence. Such experiences inevitably leave traces on minds, emotions, and even on biology. Sadly, trauma sufferers frequently pass on their stress to their partners and children.
Renowned trauma expert Bessel van der Kolk has spent over three decades working with survivors. In The Body Keeps the Score, he transforms our understanding of traumatic stress, revealing how it literally rearranges the brain's wiring—specifically areas dedicated to pleasure, engagement, control, and trust. He shows how these areas can be reactivated through innovative treatments including neurofeedback, mindfulness techniques, play, yoga, and other therapies. Based on Dr. van der Kolk's own research and that of other leading specialists, The Body Keeps the Score offers proven alternatives to drugs and talk therapy—and a way to reclaim lives.6 Here is the draft Flyer for the Save the date…. It may be tweaked..but I wanted to get it over to you
Other books on our current "To Read List" are:
Yoga for Emotional Balance by Bo Forbes
The Namaste Effect by Nichala Joy Devi
The Body Keeps the Score by Vessel VanderKolk
A Stroke of Insight by J Taylor
Wheels of Life by Anodea Judith
Vibrational Medicine by Richard Gerber
If the Buddha Came to Dinner by Halé Sofia Schatz
Books we have read thus far:(Not necessarily in the order read)
The Secret Power of Yoga by NJ Devi
The Great Oom by Robert Love
The Dalai Lama's Cat by David Michie
Breath by James Nestor
Eastern Body Western Mind Psychology of the Chakra System as a Path to Self by Anodea Judith
A Walk in the Wood: Meditation on Mindfulness by Joseph Parent
71/2 Lessons About the Brain by Lisa Feldman Barrett
Yoga and the Quest for the True Self by Stephen Cope
The Untethered Soul by Michael A Singer
The Book Of Joy by Douglas Abrams
---
Join Zoom Meeting
https://us02web.zoom.us/j/83994761345?pwd=ak5IeWxJTVhNbTB5K3c3MVdGVm5MZz09
Meeting ID: 839 9476 1345
Passcode: Queen