We are back to on site meetings at St Davids Church on 12 Mile in Southfield for a few meetings.
Check your Tapas newsletter or the website for information. St Davids has completed all renovations giving us a large, clean space to do asana, meet and have refreshments.

YAGD Book Club – July
July 8
@
1:30 pm
–
2:30 pm
YAGD Book Club meetings are held the first Friday of the month at 1:30 PM. 

If you are interested in joining us, send Char an email or text and she will forward the link. fitnessfan1@mac.com or (248) 535-3101.
---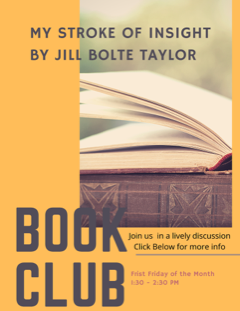 Zoom in to discuss a fascinating book with your fellow YAGD readers on Friday, July 8th at 1:30. My Stroke of Insight: A Brain Scientist's Personal Journey by Jill Bolte Taylor will be the topic of discussion that day.  The book is available to read or listen to.  A TED talk by the author is also online. You are welcome to join us whether or not you have read the book. The following summary is from Goodreads:
Jill Taylor was a 37-year-old Harvard-trained brain scientist when a blood vessel exploded in her brain. Through the eyes of a curious scientist, she watched her mind deteriorate whereby she could not walk, talk, read, write, or recall any of her life. Because of her understanding of the brain, her respect for the cells in her body, and an amazing mother, Jill completely recovered. In My Stroke of Insight, she shares her recommendations for recovery and the insight she gained into the unique functions of the two halves of her brain. When she lost the skills of her left brain, her consciousness shifted away from normal reality where she felt "at one with the universe." Taylor helps others not only rebuild their brains from trauma, but helps those of us with normal brains better understand how we can consciously influence the neural circuitry underlying what we think, how we feel and how we react to life's circumstances
Other books on our current "To Read List" are:
Yoga for Emotional Balance by Bo Forbes
The Namaste Effect by Nichala Joy Devi
The Body Keeps the Score by Vessel VanderKolk
A Stroke of Insight by J Taylor
Wheels of Life by Anodea Judith
Vibrational Medicine by Richard Gerber
If the Buddha Came to Dinner by Halé Sofia Schatz
Books we have read thus far:(Not necessarily in the order read)
The Secret Power of Yoga by NJ Devi
The Great Oom by Robert Love
The Dalai Lama's Cat by David Michie
Breath by James Nestor
Eastern Body Western Mind Psychology of the Chakra System as a Path to Self by Anodea Judith
A Walk in the Wood: Meditation on Mindfulness by Joseph Parent
71/2 Lessons About the Brain by Lisa Feldman Barrett
Yoga and the Quest for the True Self by Stephen Cope
The Untethered Soul by Michael A Singer
The Book Of Joy by Douglas Abrams
---
Join Zoom Meeting
https://us02web.zoom.us/j/83994761345?pwd=ak5IeWxJTVhNbTB5K3c3MVdGVm5MZz09
Meeting ID: 839 9476 1345
Passcode: Queen